Hardwood Stair Treads
There are parts of our homes that we rarely consider or even think about. Our stairs are one of those things we don't put much thought into until we want to change the look of them. It's not common to think about how a stair is constructed. The tread and risers are important parts in the construction of stairs. Hyland Carpet One Floor & Home in Sudbury, ON is here to help you when it comes to home renovations. Here we explain what stair treads are, and offer products and services like hardwood stair treads.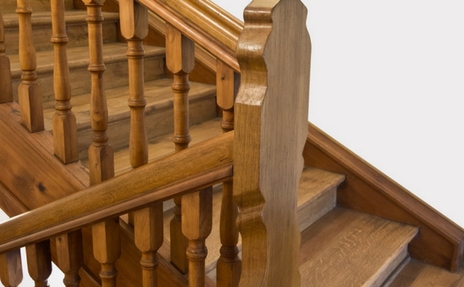 The tread is where you place your foot in order to ascend or descend the stairs. One way to remember the tread is that the tread of your shoes stands on the tread of the stairs. Usually, stair treads are about 9 in deep to ensure there is enough space. A tread that is too narrow prevents a person from fully planting his foot on the stair and could result in tripping. Treads on stairs that are too wide require a second step to make it to the next stair, requiring excess energy to climb.
We offer special services like hardwood stair treads. Hardwood stair treads provide a solid and durable foundation for your stairway. It doesn't matter if it is new construction or a remodel, we have a solution for every project. If you want or need a unique stair tread, we're happy to make that for you. We work with you to customize the dimensions and styles for wood treads.
To learn more about hardwood stair treads, be sure to visit our showroom and speak with one of our flooring professionals.